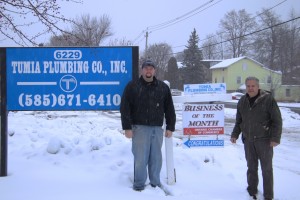 TUMIA PLUMBING COMPANY, Inc. is the December 2019 "Business of the Month" for the Ontario Chamber of Commerce. Founded in 1966, the 63 year old company is located at 6229 Ontario Center Road in Ontario Center. The structure previously housed the Magic Years' Nursery School and American Express Financial Offices and was original built and used by St. Max/St. Mary's of the Lake R.C. Church for "released time" religious education classes from the then junior-senior high school across the street.
The family owned & operated business was founded by Louis Tumia in Webster and moved its offices to Ontario Center in September of 2016, according to Joe Tumia, current owner. His son, two employees and an office manager operate the business. They provide radio-dispatched same-day and emergency service throughout Wayne, Monroe and Ontario counties. They focus on commercial & residential service & repair(large & small),sewer cleaning, tankless, gas & electric water heaters,boilers, gas & air lines,sewer cleaning & hydro settingandductless split heating & cooling. Contact them at 585-671-6410 or 585-342-2300, by email @ tumiaplumbing@gmail.comor follow them on Facebook.
The Business of the Monthprogram is in its 20thyear and recognizes both new and established Ontario businesses. A road side yard sign with customized rider provides community recognition and public notification appears in local news media, on the Chamber's website @ ontarionychamber.com, in its bi-monthly newsletter and on the business development lobby display at the Ontario Town Hall/Public Library @ 1850 Ridge Road. Additional recognition includes a photo/feature plaque for the business and introductions at the annual awards' banquet in September.
PREPARED BY:Jim Switzer, BOD/ Treasurer, OCC     VM/CELL: 585-750-2277      E-MAIL: jeswitz@rochester.rr.com
December 21, 2019
JES/jes:wp