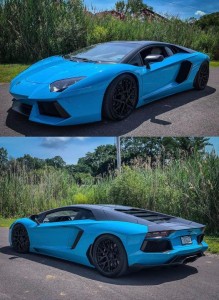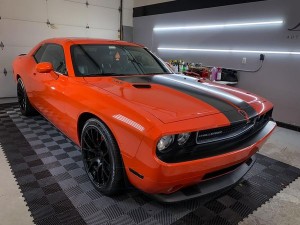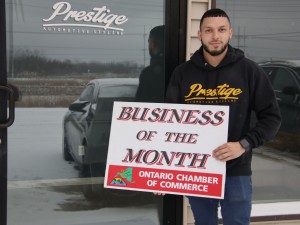 CUSTOM VINYL & PRECISE DETAILING services are provided by Prestige Automotive Styling,  located @ 396 NYS Route 104 in Ontario, which is recognized as the Business of the Month for January, 2021 by the Ontario Chamber of Commerce, Inc. Owner, Orlando Rodriguez, offers customers high-end, full color styling & coverings he applies to everything ranging from autos of all models, styles and ages and 16 foot trailers to trucks, bicycles, motorcycles and table tops.
Orlando also does custom window tinting, vinyl auto wrap, chrome wrap, ceramic coatings, vehicle accessories & paint protection. He also offers customized graphic design and applications. He is a native of Irondequoit and a graduate of the School of the Arts in the Rochester City School District, where he majored in visual design. His first job was in computer design for an automotive firm where he "caught the bug" for tinting and styling and followed his passion & niche in working with people.
"Due to the specialized nature of my work, customers & referrals come from Syracuse & the Finger Lakes and the Greater Rochester region," Orlando noted. "I involve my customers at every step of the process, from dismantling the vehicle to styling & wraps to re-assembly and road-testing the final product!!"
Daily business hours are 9 a.m. to 5 p.m. Contact him by phone@ 585-735-7710, by e-mail@ prestigeautostyling@gmail.comor on facebook.com/prestigeautostyling.
The Business of the Monthprogram is observing its 22nd year in 2021 and recognizes both new and established Ontario businesses. Community recognition and public notification is made by a road side yard sign, with customized rider, and photo/caption publication in local news media and in the bi-monthly OCC newsletter.
Additional awareness is made through posting on the Chamber's website @ www.ontarionychamber.org,and on the business development bulletin board in the lobby of the Ontario Town Hall/Public Library @ 1850 Ridge Road. Additional recognition includes a photo/feature plaque for the business and introduction at the annual awards' banquet (cancelled at present by the COVID pandemic).