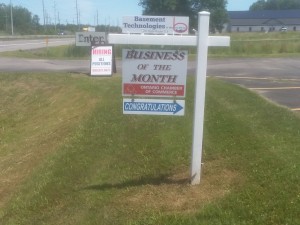 Basement Technologies of Western NY Inc. is Ontario's Chamber of Commerce business of the month for July, 2019
Developed in 2002, as a family owned and operated business serving Wayne and Monroe counties, as well as the Buffalo area. Their new location is, 476 Route 104 Ontario, NY. They can be reached by phone, (585) 872-9077, website, www.basementtechnologieswny.com,or Facebook.
Patrick McDonald is the owner, with over 20 years of experience in basement waterproofing and foundation repair. McDonald's company also provides yard drainage improvements, and retaining walls. Each aspect of their main offerings affords tangible solutions to solving your homes water problems or settling foundation. McDonald's group applies the most up to date technology to each customers project, and McDonald "personally oversees the progress of every job to ensure accurate and timely completion".  Per McDonald, "the best and only home stabilization method to help with settling issues, is the Grip-TiteHelical pier system.  This system ensures your home will rest on deep, stable soil or bedrock".
In retrospect, no job is too big or too small for Basement Technologies. "Ifyou are seeing any signs of water in your basement, trust the experts atBasement Technologies of Western NY Inc. to take care of you". They will take the time to identify your problem and walk you through every step of the process.  Estimates are free, so give them a call today and allow the experts to address your concerns.
Interviewed by Joellen Simone, Nature's Way Floral and Garden
Photo courtesy of Jim Switzer