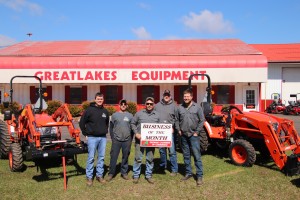 GREATLAKES EQUIPMENT SALES & SERVICE, LLC, 2223 NYS Rt. 104, Ontario, is the Ontario Chamber of Commerce Business of the Month for June, 2020.
GreatLakes Equipment Sales & Service, LLC, is a dealership specializing in commercial and residential lawn mowers; agricultural tractors and equipment along with garden sales and repair services.  Equipment manufacturers include Kioti, Gravely and Ferris. They are New York's premier dealership for Kioti.
"How do we stay small and sell big?  It's simple:  years of experience."
"Our mission is to offer you the latest in products at the best prices along with unparalleled service.  We pledge to use our best efforts to make your experience both beneficial and enjoyable. Once you give us a try, we're sure you'll be back for more."
Services include lawn tractor battery service, blade sharpening, hydraulic service, mower deck, oil change, tire repair/replacement; starter service; tune-up; winterization, belt service, pre-season inspection.  Snowthrower and zero-turn service is available along with delivery and pickup.
Check out the spring mower service special now being offered at GreatLakes Equipment.  The service is $199.00 plus tax and includes:
Inspection of all belts, bearings, pulleys, and spindles
Replace engine oil and filter, spark plugs & fuel filter
Clean and inspect air filter
Test charging system and battery
Grease complete machine
Inspect and sharpen blades
Pressure wash complete machine
Contact GreatLakes Equipment Sales & Services, LLC at (315) 333-5560 or request a service quote from the website:  www.glequipss.com,  Store hours are Monday through Friday 8 am to 5 pm and Saturday 8 am 12 Noon.  Closed on Sundays.
The Business of the Month program begins its 21styear in 2020 and recognizes both new and established Ontario businesses.  A road side yard sign with customized rider provides community recognition and public notification appears in local news media, on the Chamber's website at www.ontarionychamber.org, in its bi-monthly newsletter and on the business development lobby display at the Ontario Town Hall/Public Library at 1850 Ridge Road.  Additional recognition includes a photo/feature plaque for the business and introductions at the annual awards' banquet in September.