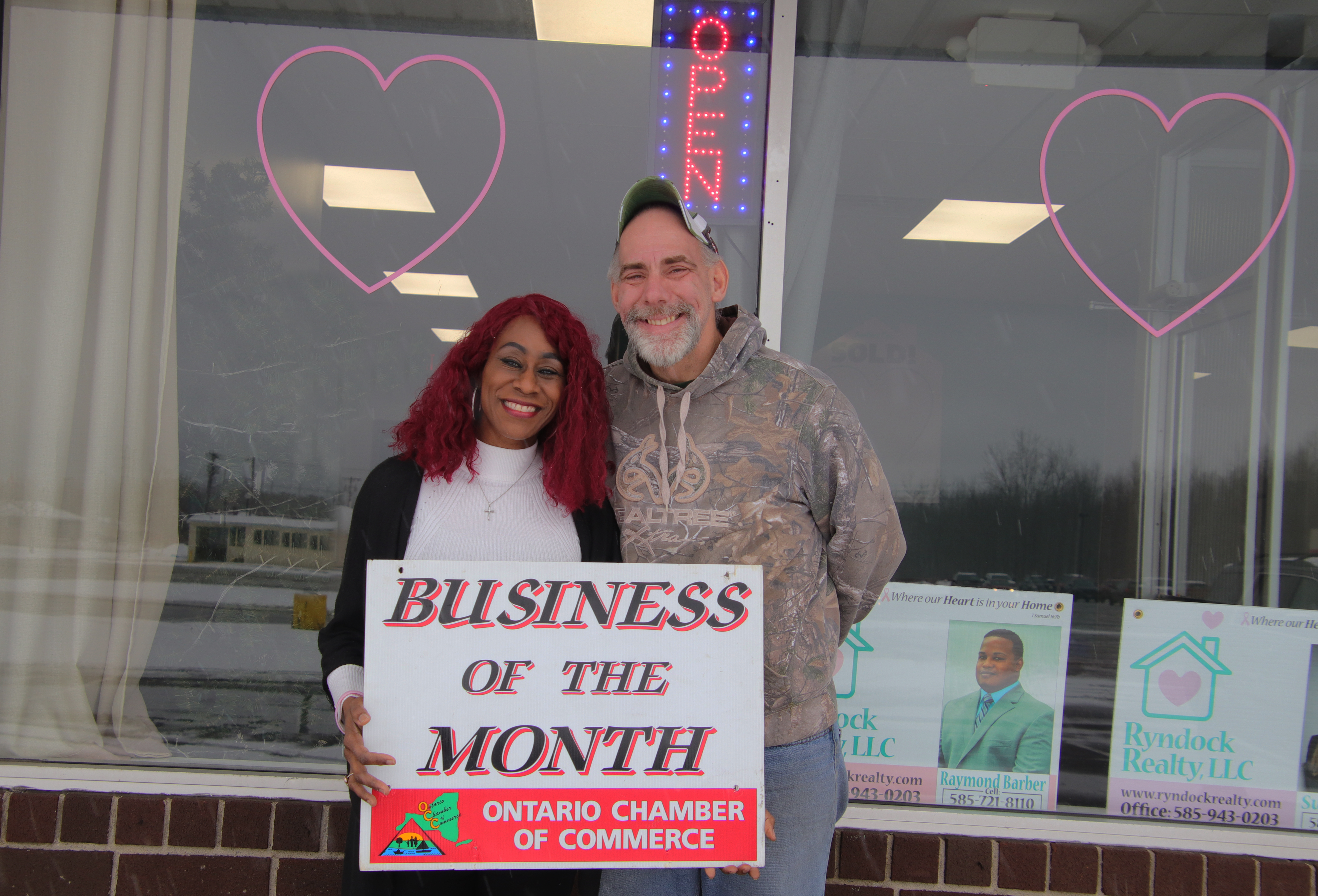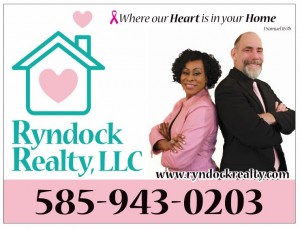 RYNDOCK REALTY LLC, located in the Ontario Plaza at 1250 NYS Route 104, is the March, 2020Business of the Monthfor the Ontario Chamber of Commerce, Inc. With Sylvia as managing/broker owner and Mark as co-owner, the company was established on November 11, 2016 after Sylvia's affiliations with local real estate companies. She earned her license as NYS real estate salesperson in 2004 and as a NYS real estate broker in July 2016. They have recently added a "drop spot" at their office for donations of non-perishable food items to the Ontario Food Pantry.
They renovated long-vacant space in the north-south mini-mall @ the Big Lots' plaza and opened their modern, contemporary office in March of 2019. Sylvia noted that it "took persistence and hard work and we hope this will be a spark for other businesses to locate in the Big Lots' Plaza. Our vision is to become a big part of the Ontario community that we thoroughly embrace and enjoy."
With four realtors on staff, Ryndock Realty prides itself on the firm "Where Our Heart is in Your Home"and making the process of buying and selling homes as easy as possible for their clients.
            Mark was raised in Walworth and is a 46-year resident. Sylvia has resided in Ontario for 38 years. Their children attended Wayne Central School District and they have a grandson who currently resides in Rochester. They will celebrate their 20thwedding anniversary in July, 2020.
Ryndock Realty can be reached by office phone@ (315) 333-1272, by email@ sylviasellzhomes@gmail.com, or cell phone(585) 943-0203, or on
Facebook@ https://www.facebook.com/whereourheartisinourhome,
Twitter@ https://twitter.com/Sylviasellshomes,
Instagram@ https://instgram.com/sylviasellshomes,
SnapChat@ https://www.snapchat.com/add/sylviasellzhomes,
Linked-In@https://www.linkedin.com/sylviaryndock/
Tiktok@ https://vm.tiktok.com/gq8usw/
The Business of the Monthprogram began its 21styear in 2020 and recognizes both new and established Ontario business owners. A road side yard sign with customized rider provides community recognition and public notification appears in local news media, on the Chamber's website @ www.ontarionychamber.org, in its bi-monthly newsletter and on the business development lobby display at the Ontario Town Hall/Public Library @ 1850 Ridge Road. Additional recognition includes a photo/feature plaque for the business and introductions at the Chamber of Commerce's annual awards' banquet in September.
PREPARED BY:Jim Switzer, BOD/ Treasurer, OCC     VM/CELL: 585-750-2277
E-MAIL: jeswitz@rochester.rr.com
February 28, 2020; March 13, 2020
JES/jes:wp