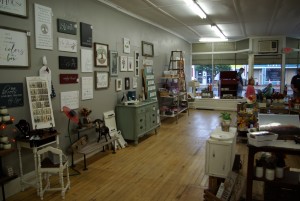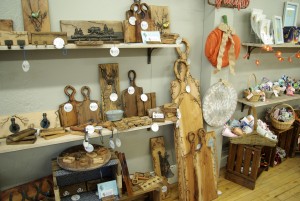 October 16, 2021 – Ontario.  Ontario Chamber of Commerce members and family relatives gathered at Sarah's Country Barn, 2001 Ridge Road, Ontario, NY for a ribbon cutting and grand-opening celebration.  The business is owned by Sarah Feidner. With the decline of in person craft shows due to the Covid pandemic, Sarah realized the opportunity to provide a retail shopping experience to display artisans' homemade products.
Sarah began her craft by arranging centerpieces for her best friend's bridal shower which then evolved to participating in craft shows.  Sarah's Country Barn is her first "brick and mortar" store which is described by Sarah as a collection of "local handmade artisans from New York State." The store currently has 20 plus vendors with new artisans being added.  Items include re-purposed furniture; soy candles; goat's milk soap; essential oils; signs; photography; jewelry; home decor and more. Allproducts are one of a kind with original art work.  As an example, arethe Lichtenberg Wood Burning art pieces by J L Carroll Woodworking, Webster, NY.  The Lichtenberg process involves using electricity to burn a design in a variety of different woods as maple, oak, or mahogany.  Each wood has a unique grain which results in a "struck by lightning" effect.
Come in and browse the vast selection and displays of many unique items.  If you're looking for that special one of a kind gift this holiday season, this is the place!  In addition, classes will soon be offered by artisans to teach their craft.    Watch for further updates and follow Sarah's Country Barn on Facebook and Instagram. A website will be coming very soon.
Contact Sarah at  (585) 402-6942
email:  sarahscountrybarn@gmail.com.
Hours:  
Monday – 4 pm to 8 pm
Wednesday – 3 pm to 8 pm
Friday – 5:30 pm to 8 pm
Saturday – 10 am to 6 pm
Sunday – 10 am to 4 pm
Tuesday – Closed
Thursday – Closed