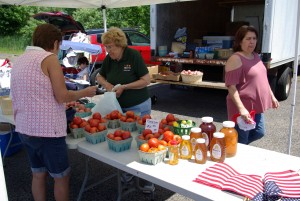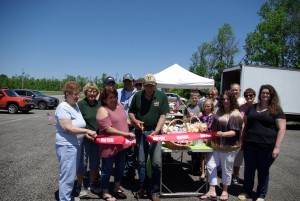 ONTARIO. June 23, 2019.  The Ontario Farmers' Market officially opened for the season with a formal ribbon cutting on a warm sunny day especially made for shopping at outdoor markets.  The market had a variety of items available including fresh spinach, lettuce, radishes, oregano, sage, a variety of potatoes, onions, honey, maple syrup, and tomatoes plus a variety of crafters.  The market is co- managed by the volunteer service of Fedele Noto (Noto Fruit Farm) and Janet Hanley with the help of the Town of Ontario Parks and Recreation Department.
Moll Farms, a vendor from Williamson, NY, also offers Bounty Baskets at $20/basket where you can choose which vegetables and fruits you would like.  They also provide free local delivery to Williamson, Ontario, Sodus, Marion, Walworth and Webster.  Go to www.mollfarms.com for more information.
The Ontario Farmers' Market is open every Sunday from 10 AM to 2 PM, rain or shine and is located at 1840 NYS Rt. 104 at the Ontario Firemens' Exempt Field.  The market is still accepting vendors and as the growing season is extended, more vendors will be coming to the market.  An application and market rules can be found on the town's website (www.ontariotown.org) and also on the Ontario Chamber's website (www.ontarionychamber.org).
The ribbon cutting ceremony was provided by the Ontario Chamber of Commerce, Inc.
If you would like to be a vendor or crafter please click on the links below for the Rules and Regulations and Application Form.
Ontario Farmers' Market Rules and Regulations
Ontario Farmers' Market Application