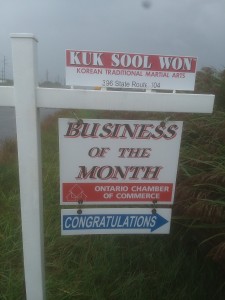 The school emphasize etiquette and education as the first and foremost step to growing within the martial arts program. Students are strengthened in basic good manners and respect. As owner Gary Evarts emphasizes, "you are not just a martial arts student within these four walls.  Each student follows a path of maturity and rules both inside and outside the school. Participants must practice ethical behavior, before they may even apply for their belt testing".
The curriculum's teachings benefit both children and adults. They nurture "life skills" self-discipline, honesty, integrity and much more." As Evart stated, "students learn from the difficulties on the path to black belt. They learn from their struggles, and this will build character."
The program was brought to N.Y. in 1979 and was brand-new to the USA. Evart began learning the Art in 1974, in South Carolina. The Ontario location opened in 2010, prior to this they were based in Webster. The current sites of Kuk SoolWon studios are in Ontario: 369 Route 104 (585-216-2122), Williamson: 4081 West Main St (315-589-4066), and Wolcott: 11807 West Main St (315-594-8991).
Evart is a world champion, but his philosophy, places his students above himself. "I do not want my students to be as good as me, I want them to be better".  Evarts Grand Champion students' accolades are proudly displayed on a wall in the Ontario locale.
There have been many accomplishments for Evart in the world of Kuk SoolWon, but his finest moments were watching his daughter, Jessie, grow into a teacher of martial arts. Jessie resides in the Philadelphia area and teaches women's self-defense.
The techniques taught encompass 3,608.  There are 68 different kicks, and 24 traditional weapons to learn.  The entire collection progresses through levels of "physical, mind and heart."  We are trying to enlighten our students to be really good human beings. To be in control, independent and balanced."
As of this writing Evarts will be stepping aside and transferring the Ontario studio to his long-time student and friend Jason Lee. Over 1,280 students have advanced through the Ontario / Williamson schools. The three branches have trained over 300 Black Belts.
Interviewed by Joellen Simone, Nature's Way Florist and Garden