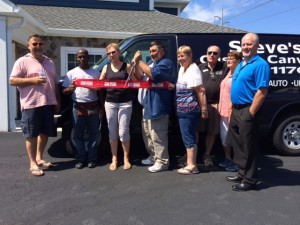 August 20, 2019.  Steve Palis, owner of Steve's Custom Canvas and Upholstery, welcomed Ontario Chamber members to help in the grand opening ribbon cutting celebration to his business recently opened at 765 County Line Rd.  His business, located at the northwest intersection of County Line Rd. and NYS Rt. 104 since 1990, suffered a fire in June 2015 that completely destroyed the structure.  In the interim, having to deal with the insurance company and getting plans together for a new building; he relocated his business to Tebor Road, in Webster.
The new building, constructed by Steve Azzano, of Azzano Custom Homes, completed in 2019, affords an ample workspace and dust free environment to work on boats and other pieces of commercial equipment. Steve constructed all of the large sewing and cutting tables used in his business. On the west end of the building is the custom canvas and upholstery business and at the east end is 3100 square feet available for lease.
When you enter the rental space, you are attracted to the natural light, open-air design.  The area has two handicapped accessible bathrooms, a utility room, and a ground level overhead garage door to allow ease in moving equipment and receiving supplies.  The high ceilings allow your eyes to travel upward to a natural wood staircase leading to an open loft space.  The floors have radiant heat and are covered with ceramic tile that resembles wood planks. The space is suitable for retail sales, professional offices, food or beverage businesses, medical services and more.  The parking lot is paved with provisions for handicap parking allowing easy access to a ground level double-door entry.  The highly visible, corner lot location on NYS Rt. 104 and County Line Rd. is controlled by a traffic light for safe ingress and egress. If you are interested in renting, please call Steve Palis at 585-265-1170 for more details. Rent is negotiable.
Steve's Custom Canvas and upholstery business offers customers services in the following categories:
Custom Commercial Canvas Applications (one-off designs and prototypes, as weatherproof cab enclosures/covers)
Custom Awnings – home and commercial – installation/maintenance/repairs
Custom Marine Canvas – tops, covers, repairs, and replacements
Marine and Auto Interiors – custom seating and cushion
For more information about his customized work, go to www.stevescustomcanvas.comor call 585-265-1170.