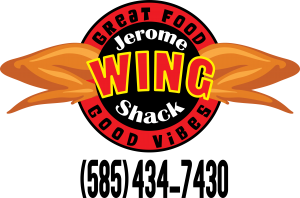 ONTARIO. October 26, 2022.  Ontario chamber members welcomed Jerome Brooks and his fiancée, Crystal Carter into our business community with a grand opening ribbon cutting ceremony for Jerome Wing Shack located 1250 NYS Route 104 in the Ontario Plaza, located at southeast corner of Slocum Road and NYS Route 104 in Ontario, NY.
Jerome has over 12 years in the food industry business.  He has worked in all positions, including management, to acquire the skills he needs to professionally operate his current business.  Jerome Wing Shack specializes in a variety of chicken wings but also offers jerk chicken; fried chicken, chicken shish kabobs, and many other menu selections.  You can go to www.toasttab.com/Jerome-wing-shack for a complete menu or follow Jerome on www.facebook.com/jeromewingshack.  Jerome Wing Shack is open year-round.
Hours:  Tuesday to Wednesday 12 Noon to 9 p.m.; Thursday 3 p.m. to 9 p.m.; Friday to Saturday 12 Noon to 9 p.m.; Closed – Sunday and Monday. Take out available. Great Food Good Vibes!
Call today to place your order for some tasty chicken!  Phone:   585-434-7430.  Look for the red igloo in front of Big Lots.