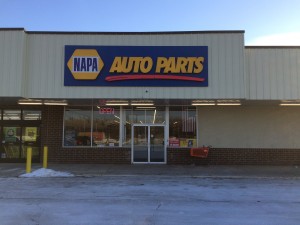 In December, 2020, Ontario welcomed another new business into its community.  NAPA (National Auto Parts Association) Auto Store opened its doors located at 1250 NYS Rt. 104, Suite 90, in the Ontario Plaza at the southeast corner of NYS Rt. 104 and Slocum Road.
Beth Clark is the new owner of the Ontario store with husband, Al, working as Vice-President.  They live in Fulton, NY and own three other NAPA stores located in Fulton, Oswego, and Wolcott.   NAPA stores carry over 500,000 products including auto replacement parts, paint and refinishing supplies, auto accessories, farm and marine supplies, tools and equipment. To keep track of inventory, an effective auto parts distribution system is maintained.
NAPA was founded in 1925 in Atlanta, GA and began by stocking wagon wheels and other parts needed for wooden wagons.  As transportation methods changed with automobiles, auto accessory parts were stocked.  Fast forward to the present, there are now over 6,000 NAPA stores in the U.S.A. with over 1,000 owned by parent company, Genuine Parts Company and the remaining are independently owned.
The Clark's would like to schedule a grand-opening celebration when the weather breaks and the Covid pandemic has slowed.  Please stop in for all your auto parts and accessory items. The Ontario store employs 5 employees. Business hours are Monday through Friday, 8 AM – 6 PM; Saturday 8 AM – 2 PM; closed Sunday.  You can buy online from www.napaonline.comand pickup in store or at curbside.   Phone: (315) 524-4000.