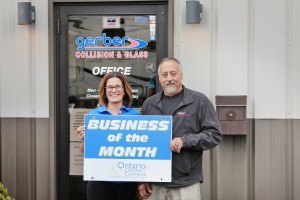 November 2023 Ontario Chamber of Commerce Business of the Month: Gerber Collision & Glass
Gerber Commercial @ 6319 Lakeside Rd. is featured by the Ontario Chamber of Commerce, Inc. as Business of the Month for November, 2023.
Gerber Commercial is a division of Gerber Collision & Glass, which is one of North America's largest collision repair facilities. Founded in 1937 as a single auto glass and trim shop in Chicago, Gerber has a long history of providing superior customer service, reliable repairs, and a safe and satisfactory experience.
Gerber Commercial Ontario upholds this commitment to excellence under the leadership of General Manager, Tony Cenzi, and a team of highly trained and skilled technicians. Located on Lakeside Rd, right off of Route 104, Gerber provides Wayne County and the surrounding counties with expert repair services for commercial and industrial vehicles, as well as heavy equipment in a variety of industries. They pride themselves on being Ontario's heavy duty repair shop!
Their services include aluminum welding, custom fabrication, frame repair, sand blasting, SMC fiberglass repair, body and glass repair, painting, and more!
Gerber Collision & Glass offers free written repair estimates and a lifetime guarantee. Their work is guaranteed against defects in materials and workmanship for as long as you own the vehicle or equipment. Request an estimate directly on their website @ https://www.gerbercollision.com/locations/ontario-commercial-ny or give them a call at 315-524-7728! You can also email them at Ontariocommercialrvny@gerbercollision.com. For your convenience, they will even come to you! Don't forget to follow them on Facebook! https://www.facebook.com/GerberCommercialRVOntario
Both new and established businesses are recognized by the Business of the Month, in its 23rd year in 2023. A yard sign with customized rider provides community recognition along with announcement in local news media, on the web @ https://ontarionychamber.org/, its bi-monthly newsletter and on the business development lobby display at the Ontario Town Hall/Public Library @ 1850 Ridge Road. Additional recognition includes a photo/feature plaque for the business and introduction at the annual awards' banquet in September.